Artist at EA Star Wars
Verified
Its been a year already? Trump is still President? ANYWAYS. Hi, I'm

Raging Spaniard

and I'll be your host for another year of this ink filled madness.

Hello and welcome to the 2nd annual installment of #inktober here on ResetEra! You may remember us from such threads as the

Inktober 2017

thread or from a different age that used to be cool but now is infested with people I have no interest in! Yay drama!

Inktober is an art challenge were you are encouraged to make one ink (traditional or digital) based piece a day during the month of October. It was started by

Jake Parker

, here is what he has to share this year, per the

official site

:

Jake Parker said:

Every October, artists all over the world take on the Inktober drawing challenge by doing one ink drawing a day the entire month.

I created Inktober in 2009 as a challenge to improve my inking skills and develop positive drawing habits. It has since grown into a worldwide endeavor with thousands of artists taking on the challenge every year.

Anyone can do Inktober, just pick up a pen and start drawing.

Inktober rules:


1) Make a drawing in ink (you can do a pencil under-drawing if you want).

2) Post it*

3) Hashtag it with #inktober and #inktober2018

4) Repeat

Note: you can do it daily, or go the half-marathon route and post every other day, or just do the 5K and post once a week. What ever you decide, just be consistent with it. Inktober is about growing and improving and forming positive habits, so the more you're consistent the better.




Purchase your official inktober shirt here, more official resources here Shameless Self Promoting:


Since I made the thread I'm going to be a total dick and sneak in my

Twitter

and

Tumblr

pages where you'll be able to find my entries (as well as this thread, obviously) Last year I had a Persona 5 theme, this year its Monster Hunter!

If you are running low on ideas, here is the official prompt list you can use to help
Its important to remember that this is ALL OPTIONAL.
If you want to skip a day, that's fine! If you want to do something non-traditional, that's great! This is all just an excuse for our little artist community to grown and thrive, we can get to know each other better and help each other fulfill our artistic goals. Do not take this too seriously, the rules are there to help you along the way, not to restrain you!
F.A.Q
Mailbox said:
So digital art is acceptable as well?
Don't really have the proper inking tools for analog.
Absolutely! In this day and age there are a million ways to create art! Jake is a traditional analog artist, but many digital only artists participate in inktober and have a great time doing so.
I'm really behind on this, should I quit?
Hell no! Even if you only make one drawing, that's way better than zero drawings. We all have lives and cant always afford the time. Keep your own pace, there's no pressure here.
Pretty much anything ink based, even a ball point pen can give you some amazing results, however
here is a handy list
that might help you. For covering BIG areas with black I personally use a brush pen (
this is my favorite and a bargain at that price
) or even leave it blank and fill it in Photoshop (not too much to learn from filling darks, its a personal preference)
Some highlights from the 2017 thread, remember that we had a thriving 2017 thread in the old place, so this got a bit hijacked towards the end :(
*High fives Raging Spaniard! First post! (I think)
I was sticking to
instagram
and
Twitter
for my inktober posts. Thanks for bringing the thread back!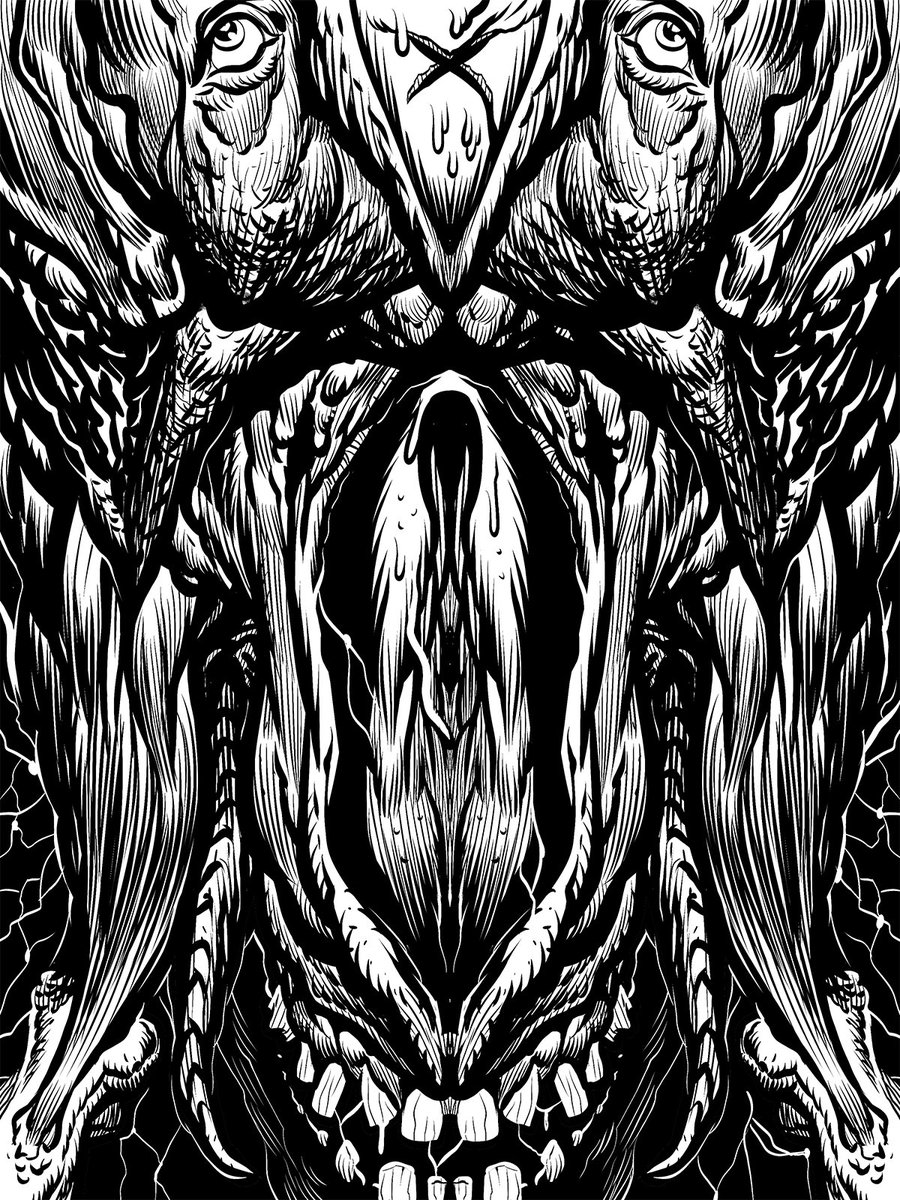 I haven't had a chance to do much Inktober this year. Last night, at about five AM, this digital guy was as close as I've gotten. The new symmetry tool in PS is pretty rad.
PhotoEra - One photo per day
Drawing a Day
The Art Pub
Thats all! Good luck and
HAVE FUN!